When stock markets are falling or when you think they might be about to fall - it can be a good idea to take a more 'defensive' position in your trading. What does it mean?
What are defensive stocks?
Defensive stocks are issued by a company that has reliable earnings which are less affected by the economic environment. Typically defensive stock prices will move less so shareholders are compensated by dividends.
In a down (bear) market, defensive stocks will typically outperform a benchmark stock index like the S&P 500. Some defensive stocks might rise when the broader market is falling but by definition they should fall less than the benchmark.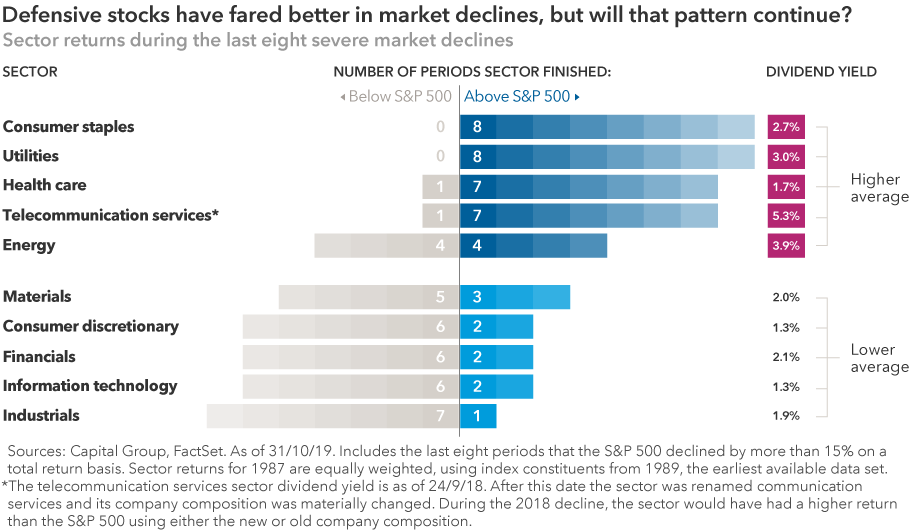 Where to look for Defensive Stocks?
Typically the best place to start your search for defensive stocks is by sector. Below we give you five classic defensive sectors and some example stocks.


Utilities
E.g. Centrica, Con Edison and RWE
Consumer Staples
E.g. Kraft,Nestleand Procter & Gamble
Pharmaceutical
E.g. GlaxoSmithKline, Merck,Pfizer


Defence
E.g. BAE Systems, Lockheed Martin, Raytheon


Tobacco
E.g. BAT, Imperial Brands, Phillip Morris

Remember, these are just examples of stocks that are typically characterized as defensive. If you're interested in owning some defensive stocks, do your research first to find companies that suit your own investing style and risk tolerance.