Based in San Francisco, SoFi is a leading online lending platform founded in 2011 to tackle the U.S. Student debt crisis through student loan refinancing. In 2011, the average American student had $26,600 in loans, and today the national debt has surpassed the $1.6 trillion mark. SoFi grew into a giant through the innovative marketing and financial practices explored in this article.
SoFi's business story and my personal take as an ex-intern
SoFi identified a major problem across the country: rising student debt levels and increasing numbers of outstanding debt balances. With private and public college tuitions trending upwards, the business opportunity seemed clear: debt levels would keep rising and offer an online lender an abundant supply of loans to refinance, and borrowers could benefit from lower rates through that lender. SoFi's total addressable market represented over 40 million Americans, with average student loan sizes of over $35,000 and voila, SoFi became the first firm to refinance federal and private student loans online saving borrowers thousands of dollars a year. Today, SoFi boasts of helping borrowers pay off $22 billion in debt.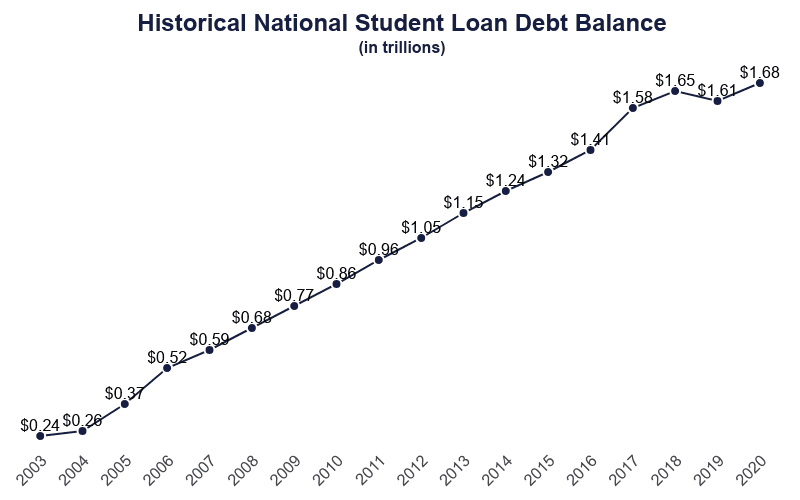 At the time SoFi was founded, federal rates were offered to any student seeking an education, but SoFi noticed that not all borrowers had the same profile. They developed an elite underwriting protocol that only offered loan refinancing solutions to the best qualified borrowers, usually people with 750+ FICOs, sexy loan to value ratios, high monthly free cash flows, high incomes, top university graduates, working for top firms.
They called these people HENRY's (High earners not rich yet). This was their target audience, their golden egg goose.
It didn't make sense for these people to pay anything above 3 or 4 percent on their student loans! So
SoFi hedged its lending risk of borrower default by cherry picking the best, and increased its ABS offering by promising attractive coupons to institutional investors.
SoFi is short for Social Finance. They picked this brand name for two main reasons. First, because of their innovative members-oriented social banking culture. SoFi inclusively calls its borrowers 'members', and invented the idea of building a community around people who have refinanced through SoFi. Members gather for outdoor events, wear SoFi t-shirts (a marketing ploy) and soon enough the entire city knows about SoFi and chucks away on www.sofi.com to refinance their own debt.
The second reason is because of the inherent social service they were doing in reducing interest rates on burdensome loans, offering enormous levels of flexibility in terms of no prepayment penalties, halting payments for months with no fees, offering professional development coaching, and charging zero origination fees. All of this was an online lending revolution which is why SoFi is such a big deal in the game, and why their IPO is one of the most anticipated events in FinTech history.


By the time I joined SoFi as an intern in the summer of 2017, they had already become the talk of the town refinancing billions of dollars of student loans and launching both SoFi at Work and product options for medical professionals (some of the largest student loan pools in the US because of incredibly high tuitions). The team I worked for sold what was called "Employer Contribution Programs" to HR departments which enabled employers to offer extra benefits to their employees in the form of a 401 pension plan, except geared towards paying back student loans faster. For every $1 the employee put towards her loans, the employer would contribute $1.
Later on, SoFi realized it had to do what every dominant player needs to do: diversify its product offering. So in 2019, it launched SoFi money (a card), SoFi invest (with Crypto solutions), SoFi relay (spending management), and of course mortgage refinancing, law school refinancing and pretty much every single type of lending and refinancing option you can imagine, even estate planning! The vision to maximize member retention and wallet spend is now a reality at SoFi because SoFi is a one stop shop. Here is the huge list of product offerings on their website:


Also SoFi has a stadium. A stadium where members have special access points and services. Not bad for a company started 9 years ago.
So there we are today with this well deserved IPO announcement. Let's see what a SPAC is and what the deal looks like:
What's an SoFI IPO through SPAC ?
A Special Purpose Acquisition Company transaction is considered to be an alternative to traditional IPOs. A SPAC is formed by investors (in SoFi's case
tech investor Chamath Palihapitiya) and a private target company (SoFi) and it is essentially a merger. The SPAC is an entity that facilitates the raising of cash through primary market dealings which avoids the volatility of a public exchange. SPACs are in vogue in 2020/2021 because of an influx of high-profile investors who see SPAC as a working capital solution (a solution to activate cash that is sitting around not growing). SPACs will seek underwriters and institutional investors before offering shares to the public. The pros of selling to a SPAC is that you can avoid volatility usually seen during tech IPOs, raise the stock price by 20% on average, and lean on the guidance and reputation of an experienced partner for a quicker raise. (soFI IPO)
SoFi's SPAC IPO
SoFi's SPAC is called Social Capital Hedosophia Holding Corp. V and the deal is set to value SoFi at $8.65 billion. SoFi has seen 14 funding rounds, for a total of $2.5 billion with a post money valuation of what was for a long time around the $5-$6 billion range. This $8.65 billion valuation is much higher than anticipated (at least by me), but considering their April 7th 2020 acquisition of Galileo Financial Technologies for $1.2 billion it might make sense. As a benchmark, the latest comparable IPOs in valuation size were Snowflake ($12.4B private valuation), C3.ai ($9.6B IPO valuation), McAfee
($8.6B IPO valuation)
, Unity ($6B private valuation), Asana ($5.5B IPO valuation) and Palantir ($10.5 private valuation). As you can see, SoFi's IPO ranks up there with the big kids.
SoFi has attempted to get a hold of bank charter for years. There was already talks of this in 2017 and it appears as though they have finally received preliminary approval from the U.S. Office of the Comptroller of the Currency for a national bank charter in October 2020. The cash proceeds from the IPO will provide $2.4 billion in cash proceeds.
Closing of this SPAC deal is said to close next quarter (can
b
e
done as quickly as 8 weeks) and $150 million of the transaction is said to
b
e
going towards its
b
ank charter.
SoFi had more than $200 million in revenue in the third quarter of 2020 and expects to generate a
b
out $1
b
illion in adjusted revenue in 2021 reflecting an incredi
b
le year over year growth of 60%.
The institutional investor groups
b
acking the deal's remaining $950 million SPAC investment are;
B
lackRock, Altimeter,
B
aron, Coatue, Dura
b
le Capital, and Healthcare of Ontario.
Sources: