Since the the news of effective COVID vaccines, the price of gold has plummeted for 3 weeks in a row to hit a 4-month low. Is this the end of the party for gold?
Must know
The price of gold is up 16% this year but that is down from a gain of 33% in August
News from Pfizer, Moderna and AstraZeneca about the efficacy of their covid-19 vaccines has coincided with a 3-week decline in the price of gold
Gold ETFs have been suffering from outflows since the price failed to build on a record high of over $2000 per oz.
Positioning (COT) data shows speculators have slashed bullish positions on gold futures and options contracts
The decline in gold has come alongside a boom in Bitcoin and other cryptocurrencies, sometimes referred to as 'digital gold'
TECHNICALS: Gold has dropped below critical support at 1850 and further declines could target 1760 and 1690
Chart
Spot Gold (XAU/USD) November (month-to-date)
The vaccines
Gold is an investment to make when there is economic uncertainty, which increases the probability that central banks will slash interest rates, print money or in some other way devalue their currency. With the unprecedented economic uncertainty and massive central bank intervention of 2020, gold has been used by investors as a store of value.
The story on vaccines has flipped the gold story 180 degrees. The idea now permeating markets is that the economic outlook has become more certain and that there will be less need for central banks to flood the system with more liquidity.
The biggest shock (evident on chart above) was when Pfizer / BioNTech announced their phase 3 trials showed a 95% efficacy for the vaccine. Before the update, vaccines were thought of as the great white hope, afterwards they became the new reality.
The next step is for the vaccines to receive emergency approval from the FDA (Food & Drug Administration) in the US – which might well trigger a next down leg in gold.
ETF Outflows
For all the long-term believers in gold, there are many short-term speculators riding the strong price momentum. The vehicle for these speculators is increasingly ETFs, which are very liquid and easy to dispose of when the price starts turning sour – as it has since August.
The below chart shows the monthly outflows from all the known ETF holdings of gold. The fund flows dropped dramatically in August and eventually turned negative as of November.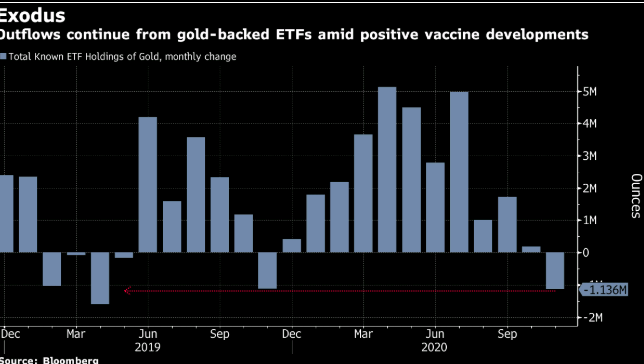 It's worth noting though that these fund flows are not a forward-looking indicator. In fact, a month of quarterly outflows has been a good contrarian signal to buy gold on the past two occasions.
Positioning
Overall speculators remain strongly positive gold but net bullishness has of course come down with the declining price action. The below chart does not include the week in which gold dropped down to $1800 per oz. Presumably net large speculator positions have dropped since this chart was printed but so far the drop can be characterised as a dip in bullish interest, not a reversal.
"Bitcoin is the new gold"
It is fine to be a believer in cryptocurrencies but in our view it is a mistake to discount the oldest asset class in town as 'down and out'. Nonetheless there does appear to be a clear breakdown in what had been a close relationship this year. The below chart shows the gold-Bitcoin correlation flipping negative after being strongly positive for months.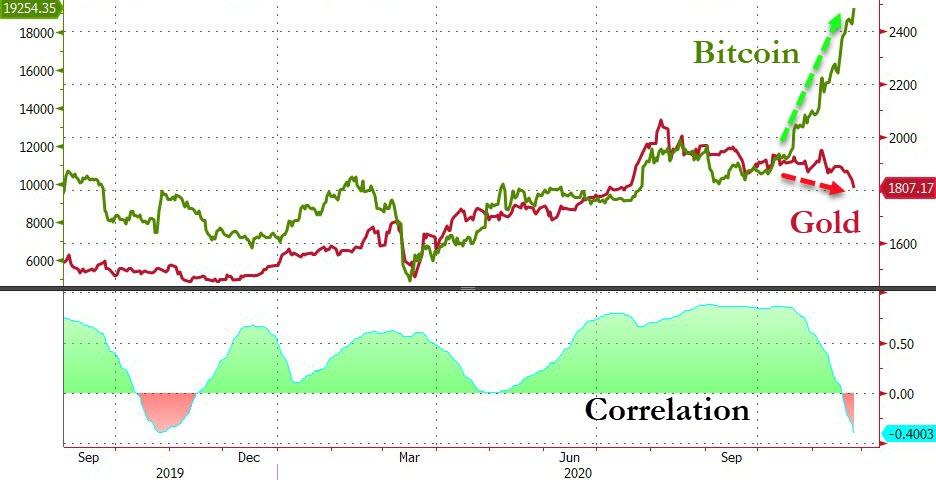 There are two competing explanations for gold diverging from Bitcoin.
Here the argument goes that investors now prefer to use Bitcoin as a store of value than gold. To us this doesn't hold much water because, why the sudden change? This year gold hit a record high.
Bitcoin has had some specific bullish news
The extra interest from the 'mainstream' in Bitcoin derived from Square, PayPal and some big-name investors have encouraged speculative flows into Bitcoin. Meanwhile, the underlying reasons for holding gold have been diminished because of the vaccine.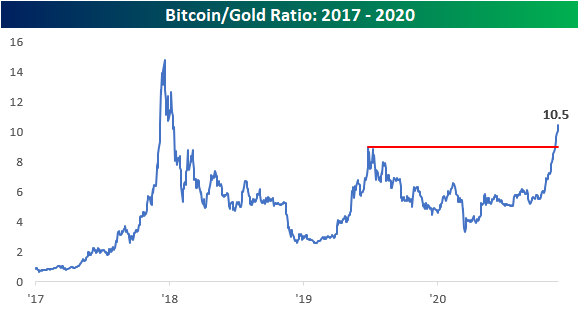 While it might be true that Bitcoin will continue to outperform gold, that does not have to mean that the gold price falls. In fact, if the US dollar continues to fall in value (it is at 3-year lows) – then both Bitcoin and gold can rise together, though maybe with Bitcoin at a faster pace.
Technicals
Gold (XAU/USD) 9-month candlestick chart
Gold has dropped below critical support at 1850 and further declines could target 1760 and 1690, which are the 50% and 61.8% Fibonacci retracement levels of the bullish run that started in March. For the time being, gold remains within a down sloping channel, which is correcting the former bullish trend.