We hand picked some top market moves worth mentioning for the week ended August 27th.
Story #1: Taper talks were stale.
Market participants were anticipating Friday's speech by Fed Chair Powell to see if he would provide any signs that the central bank would accelerate or slow its eventual tapering. Then again, the odds of Powell revealing any decisions were low. However, the speech turned out to be a complete nonevent as Powell did not signal any deviation from the central bank's recent assessment of economic conditions or outlook for removing policy accommodation.


Story #2: Small caps surged!
The Russell 2000, and index of US small-cap stocks, climbed more than 5% for the week, outperforming its large-cap peers by a wide margin Small caps' biggest daily gain came on Friday in the wake of comments by Powell-- The Russell 2000 Index of small-cap stocks posted particularly impressive gains. Stocks in the energy sector jumped higher as crude oil prices gained about 10% for the week. T. Rowe Price's equity traders noted that trading volumes were generally very light, as is typical for late summer.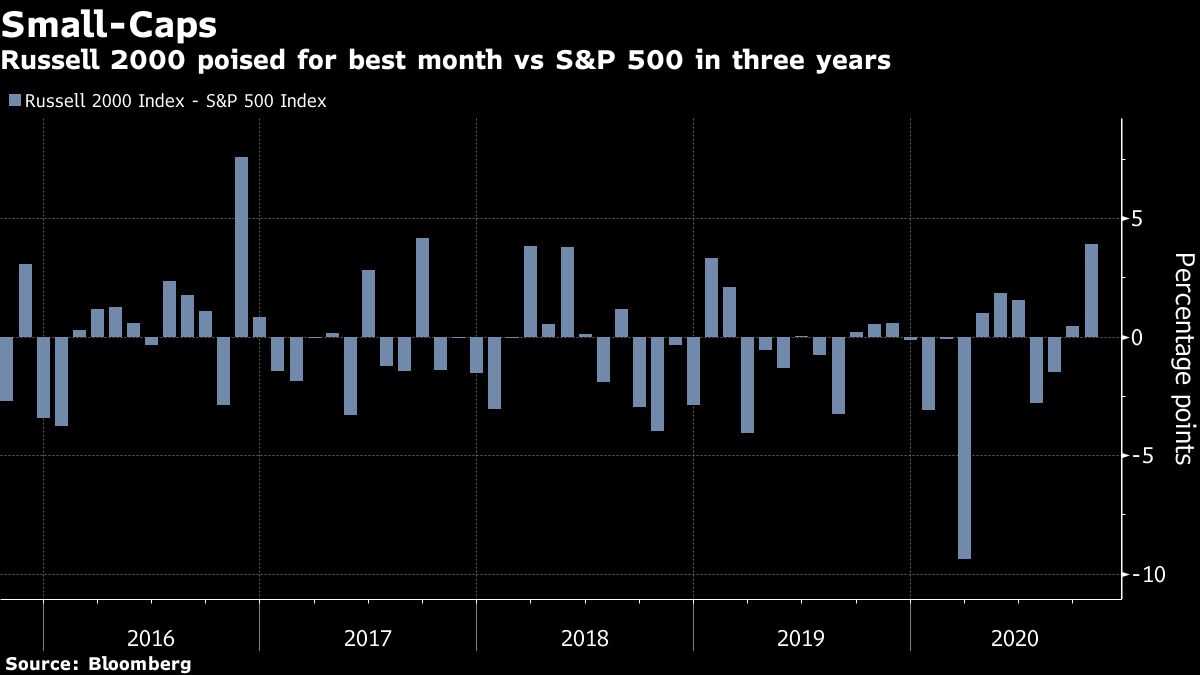 Story #3: FDA approved Pfizer vaccine
Monday's news about the FDA providing full approval of the Pfizer shot, which could convince more employers to mandate use of the vaccine, boosted stocks early in the week. Stocks gained as full Food and Drug Administration (FDA) approval of the Pfizer-BioNTech COVID-19 vaccine supported sentiment toward an ongoing economic recovery. Also, Pfizer is looking to add to its portfolio with plans to buy Trillium for $18.50 a share, a 118% premium on the stock's 60-day weighted average price. Trillium's two lead molecules, TTI-622 and TTI-621, block signaling proteins involved in blood cancers, and are both in human trials across several types of disease.


Story #4: Treasury yields increased
U.S. Treasuries posted negative total returns as yields increased. The week's positive economic data helped push yields higher, while improving sentiment toward riskier assets such as equities also weighed on demand for Treasuries, which investors view as a lower-risk asset class. The broad municipal bond market registered modestly negative returns through most of the week but held up better than Treasuries.

Story #5: Core CPI Inflation spiking
The inflation report that the U.S. Federal Reserve uses to track consumer prices posted the fifth big monthly increase in a row, climbing to the highest level in three decades. The personal consumption expenditure price index climbed 0.4% in July, and the 12-month rate rose to 4.2% from 4.0%—the highest level since 1991.
Story #6: Global stocks suffered worst week
Fears of a slower economic recovery and an impending reduction in US assistance weighed heavily on global stock markets, which had their worst week since June. The FTSE All-World index declined 1.8% this week, as China tightened data protection standards for its fast-growing technology industry, while countries like Australia and New Zealand imposed emergency lockdowns due to coronavirus fears.
Story #7: US stocks rebounded well
The S&P 500 closed at another new all-time high yesterday. The main #us #equity Index has gone without a 5% pullback for 10 months. The S&P 500 drawdown was less than 2% before buyers started to step in. Main reason : central banks are suppressing volatility as G3 central bank balance sheets keep hitting new highs ($9.5T for ECB, $8.5T for Fed). As such, there is no alternative (TINA) for investors than buy risk assets. The downside of this : The longer volatility is suppressed the more it's going to pop. Between 2016 and early 2018, the S&P 500 rose without any 5% pullback during 20 months...

Story #8: Nasdaq impressed
Nasdaq crosses another 1,000 point threshold! The Nasdaq Composite index crossed 15,000 for the first time this week. The tech-heavy index is on pace to cross its third 1,000 point threshold this year and the sixth since the pandemic began in early 2020. The long-term chart of the Nasdaq below includes red dots to show each time the nasdaq first crossed a 1,000 point threshold along with the number of days for each one. After first crossing 5,000 back in March 2000, it took 6,256 days for the Nasdaq to top 6,000. Since then, though, the Nasdaq has been making quick work of 1,000 point thresholds.
Story #9: China crackdown and Golden Dragon Index
The Nasdaq Golden Dragon China index has taken an unparalleled dive, opening up the chance of a return for the most daring China bulls. The 98-member index has dropped 46% in the last six months as a result of China's regulatory crackdown. Because of the severity of the downturn, it's possible that bad news has already been priced in, allowing for a recovery. The index increased by 8% on Tuesday, marking the third consecutive day of gains. In Asia on Wednesday, a resurgence in Chinese technology equities came to a halt.


Story #10: European IPO levels in the US surge
European businesses are rushing to list in the U.S. at the fastest pace in two decades, just as a Beijing-led crackdown brings the boom in Chinese initial public offerings to an abrupt halt. Swiss sneaker brand On Holding AG, backed by tennis star Roger Federer, said Monday it will list in New York, while cryptocurrency miner Argo Blockchain Plc filed for a U.S. IPO on Friday. U.K. fintech firm Wise Plc plans to sell American depositary receipts. They'll add to the $9.5 billion raised by European companies through New York IPOs this year through Monday, the most for this period since 2000.