Rare earth minerals – or elements (REE) – are not so rare BUT have become highly sought after! Use in smart phones and electric vehicles is creating huge demand.
investing opportunities
Apple is not the most valuable company in the world by mistake. Smartphones are crucial to our modern daily life and rare earth minerals are integral to how smartphones are manufactured.
The push for green / zero emission / electric technology has 'unearthed' a huge new channel of demand. Permanent batteries from REEs are used in all of Tesla EV engines.
China's role has become increasingly important as the dominant exporter or these minerals – a power play over Western technology and energy. Governments now have a geopolitical strategic reason to secure rare earth mineral supply.
There are no futures exchanges for rare earths but their importance has created opportunities to invest in these rare earth stocks
Definition: What are rare earth minerals?
We are all familiar with trading precious metals like gold, silver and palladium- and even industrial metals like copper. These metals of course are in the periodic table – remember those good old science classes?! The atomic symbols are XU for gold, XG for silver, PD for palladium and CU for copper. You may recognise these as tickers from your online trading platform.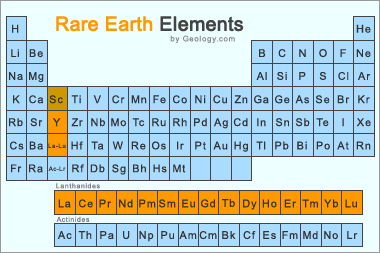 Rare earth minerals – otherwise known as rare earth metals (REM) or rare earth elements (REE) are 17 chemical elements from the periodic table. Of those 17, there are 15 lanthanides and scandium and yttrium.
–that's already beyond the scope of knowledge needed to invest in this space!
But in case you're interested – the 15 lanthanides are lanthanum, cerium, praseodymium, neodymium, promethium, samarium, europium, gadolinium, terbium, dysprosium, holmium, erbium, thulium, ytterbium, and lutetium (see in the table above).
Using rare earths in smartphones and EVs
Again – no need to study for a doctorate in Geochemistry – but the way rare earths are used underpins the business case for investing in the area. Near the top of the list is their use in smartphones, electric vehicles and wind turbines. The most important role of the rare earth metals in high-tech is as magnets inside the rechargeable batteries.
Rare earths are used as catalysts, phosphors, and polishing compounds. These are used for air pollution control, illuminated screens on electronic devices, and the polishing of optical-quality glass. Not all rare earths are created equal. Magnets include praseodymium, neodymium, samarium and dysprosium. Phosphor rare earths are those used in lighting and include europium, terbium and yttrium. Cerium, lanthanum and gadolinium are sometimes included in the phosphor category.
The global demand for automobiles, consumer electronics, energy-efficient lighting, and catalysts is expected to rise rapidly over the next decade. Rare earth magnet demand is expected to increase, as is the demand for rechargeable batteries.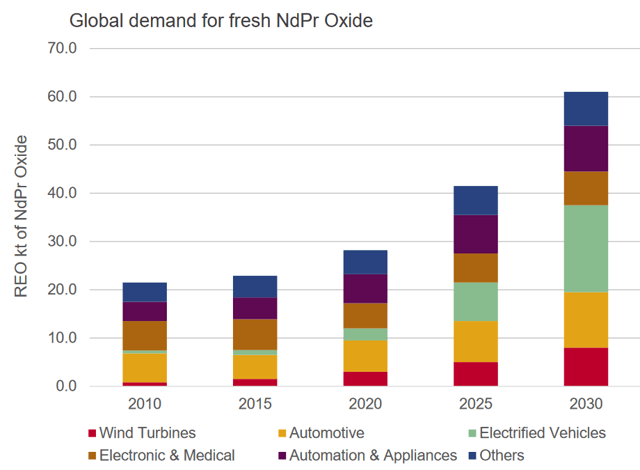 It is not of course a foregone conclusion that demand for rare earths will continue to rise. The biggest risk is displacement by alternatives. For example, according to Elon Musk, Tesla is already close to ending the use of cobalt in its EV batteries. Any investments in colbolt mining and manufacturing have taken a hit as a result.
Interestingly Apple's iPhone 12 model is made from recycled rare earth minerals in response to environment concerns about the ecological impact of throwing away old electronic devices. Were recycling efficient enough – no new rare earth elements really need be mined for use in smartphones, which have been around over a decade with plenty of old devices. This is not the case for electronic vehicles and wind turbines however, which use much larger batteries.
'The China problem' in rare earth production
China produces by far the most rare earth elements – dominating global supply. It accounts for 60% of mining, 85% of refining and 90% of manufacturing. China keeps its REE reserves a secret so only estimates are available on total global supply. The going assumption is that we are nowhere close to running out – as in 'Peak REE'.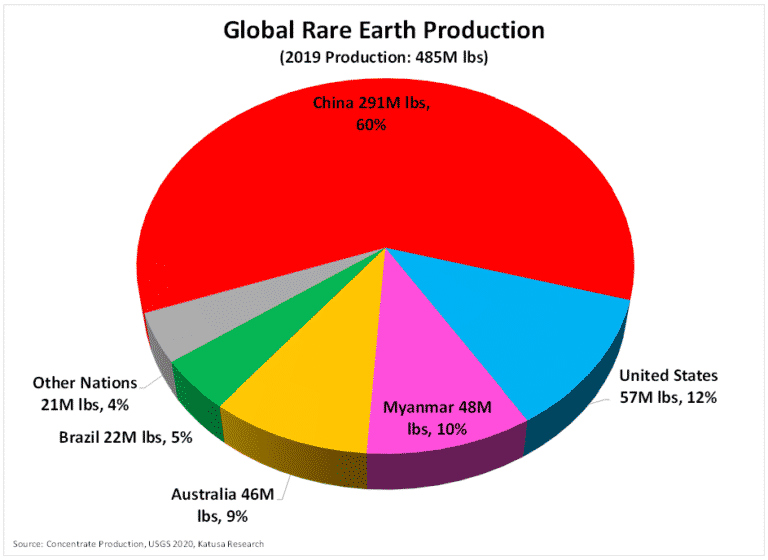 China controlling the supply chain of rare earths could pose problems. The country has passed a law allowing the government to ban exports of strategic materials and advanced technology to specific foreign companies – an equivalent to the US Department of Commerce's Entity List.
Global leaders are casting their minds back to the 1970s oil crisis when Arab member nations of OPEC imposed an embargo against the United States in retaliation for US support of Israel in the Arab-Israeli War. The embargo throttled American oil imports causing the need for quotas and famously mile-long queues at petrol stations.
"China will not rule out using rare earth exports as leverage to deal with the situation." – Chinese government-funded report (cited by Horizon Advisory)
We are already hooked on smartphones and if the world is converting to electronic vehicles (EVs) – then the last thing we need would be for China to close off the supply of the materials critical in their production.
General James Conway, the 34th Commandant of the US Marine Corps and Peter Ackerman, founding chair of the International centre on nonviolent conflict wrote an Op-Ed in the Financial Times on this very issue. They note a Chinese-funded report that said if the US-China trade war intensified "China will not rule out using rare earth exports as leverage to deal with the situation." They go on to note that "China has worked hard to exert vast control over the mining and processing of the critical minerals necessary for the batteries and components in EVs and other advanced fuel vehicles".
Top rare earth mineral stocks
The most direct way to invest in rare earths is through mining and exploration companies. The biggest are in China but for investors outside China – the easier to access opportunities tend to be in Australia and Canada – typically listed on the ASX or TSX exchanges respectively.
China Rare Earth Holdings (0769.Hong Kong)
Most Chinese miners are listed in Shanghai but China Rare Earth Holdings is a little more accessible via its Hong Kong listing. The company is engaged in the manufacture and sales of rare earth and refractory products.
Lynas Corporation (ASX:LYC)
Lynas mines for rare earth metals in its home country of Australia before sending the raw materials for refining and processing at its plant in Malaysia.
Alkane Resources (ASX:ALK)
Alkane Resources is a gold production company with a multi-commodity exploration and development portfolio. It is a long established player, listing on the ASX in 1969.
Greenland Minerals and Energy (ASX:GGG)
Greenland Minerals is an Australian company that has been operating in Greenland since 2007. It's primary focus is the development of the Kvanefjeld rare earth project in south west Greenland.
Hastings Technology Metals (ASX:HAS)
Hastings is an ASX-listed exploration and development company that is currently concentrating its efforts on its two rare earths projects in Western Australia.
Midland Exploration (TSXV:MD)
Midland Exploration is a mineral exploration company focused on gold, PGE's, base metals and REE mine discoveries in Quebec, Canada. The company has been listed on the TSX Venture Exchange since 2007.
Neo Performance Materials (TSX:NEO)
Neo manufactures advanced industrial materials critical to many modern technologies. The Company's products include magnetic powders and magnets, specialty chemicals, metals, and alloys.
Northern Minerals (ASX:NTU)
Northern Minerals Limited aspires to be a principal supplier of ethically produced Rare Earth Metals. The Company has a large landholding in Western Australia and the Northern Territory that is highly prospective for this element.
Pensana Metals (ASX:PM8)
Pensana is bringing online the first major rare earth mine in over a decade to supply the burgeoning demand for magnet metals. The last rare earth mine to come online was Lynas' Mt Weld 12 years ago.
Thanks for reading and happy investing!
Sources:
https://www.ft.com/content/3cbd2893-ee4b-47b7-a4e5-2cd1b95b5a31
https://www.kitco.com/commentaries/2020-08-28/Rare-Earth-element-investing-101.html
https://geology.com/articles/rare-earth-elements/
https://seekingalpha.com/article/4354642-update-on-rare-earths-sector-and-promising-rare-earths-stocks-to-consider
https://investingnews.com/daily/resource-investing/critical-metals-investing/rare-earth-investing/ways-to-invest-in-rare-earths/
https://geology.com/articles/rare-earth-elements/
Companies of investing opportunities
https://www.lynascorp.com/about-us/
https://www.alkane.com.au/company/about-alkane/
https://hastingstechmetals.com/about-us/
https://www.midlandexploration.com/
https://www.neomaterials.com/who-we-are/
https://northernminerals.com.au/about-us/