The price of silver crashed 11% on Monday before eventually closing 9% lower. Silver is volatile and here we outline some reasons behind the fallout.

Why such a strong reaction? A look at silver's year-to-date performance offers some clue. It is still up 36% year-to-date after yesterday's drop and up a whopping 103% from the low in March. Gold is up 28% from the March low. When an asset has appreciated that quickly, the pullbacks tend to be equally vicious. This is evident in other popular markets this year like Tesla stock or Bitcoin.
Silver volatility
Silver is also inherently more volatile than gold because of the value of its annual supply. New supply of silver each year of around 1 billion ounces eclipses the 120 million new announces in gold, however the price per ounce of gold is much higher, giving it a much larger and more stable market capitalisation.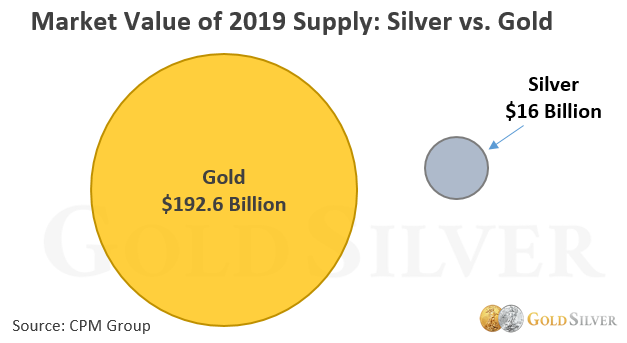 Priced in dollars
Silver is priced in US dollars - and the US dollar is now the preferred haven asset in moments of market panic. In risk-on days, stocks and other risky assets perform while in risk-off days the US dollar, US treasuries and the Japanese yen rise. The below chart from Bloomberg shows a near-perfect inverse correlation between gold and the US dollar.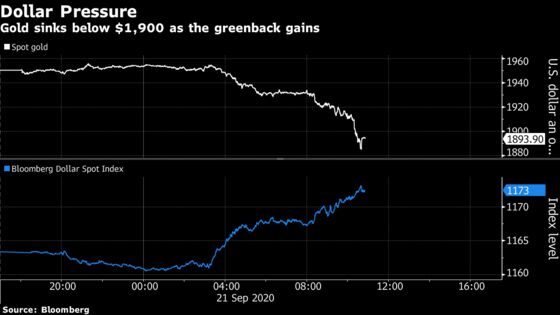 On Monday the US dollar saw its biggest daily price gain since June as several bad-news events seemed to hit the market at once. That included leaked reports implicating huge financial crime at some of the biggest international banks, which pulled bank shares lower, weighing especially heavily on European stock markets.

In this environment investors opted to move funds into the safety of US government debt and into cash in the form of US dollars, sending other major currencies - including gold and silver lower in the process.
Coronavirus & lockdowns
The highest weekly total of coronavirus cases in Europe since the pandemic began has fuelled concerns that governments will be forced to re-lockdown economies and halt the recovery. Indeed, the UK is set to announce new lockdown restrictions including a 10pm curfew at pubs and it will encourage people to work from home where possible.

Slower economic growth will limit the demand for industrial goods, including those which use silver. Government restrictions on work at factories will also limit manufacturing as evidenced by the first lockdowns in March and April.

It is an open debate about how much worse the virus will get during the traditional flu season and what governments will do in response. Should governments opt for full national lockdowns, that is likely to put downward pressure on silver prices from the perspective of industrial demand.
Stimulus & inflation
Should governments and central banks compliment national lockdowns with new fiscal and monetary stimulus plans - that would inject new money into the system, devalue the existing money supply and lift the value of fixed assets like silver.

New fiscal and monetary stimulus measures push up inflation expectations, but because central banks are promising to hold interest rates at rock bottom - real yields are in a downtrend. The chart below shows real yields (inverted) are well correlated to spot gold, and silver tends to move in sync with gold.
(Source: Finanz.dk)
Technical analysis
Silver has fallen below its 50-day moving average for the first time since May 5 but the price did steady near its August 12 low. Having topped out at $30 per oz, silver is now testing demand at $25 and it could be on course for a correction back towards $20.
Read our next article: What is behavioral finance?